By: Jasanna Sevier
"Protest is vital for democracy. Dissent must not be criminalized" – Michael Segalov
The revolution has been increasing its momentum every day. From Americans to South Koreans, citizens of countries all over the world have said enough is enough. Protests have seemed to reach an all-time high as public tolerance has continued to decline. Here is a list of just some of the protests that have transpired over the past months all over the world.
American college racism protests
Beginning as a one-man hunger strike at the University of Missouri for the resignation of the university president over neglected racism on campus, Jonathan Butler sparked conversations throughout the country. With the hashtags #ConcernedStudent1950 and #StandwithMizzou, colleges all over protested about how their campus also ignores the racism of some students and the misrepresentation of all races. On November 18th, the national day of action excited even more protests as communities came together to display how racism is very much alive and relevant on campuses. Colleges that were involved in protests included Yale, Princeton, Stanford, University of South Carolina, Brandeis, University of Illinois, and many more. Twitter was flooded for days of personal stories of students being victims of campus racism and how schools never make an effort to alleviate tension within the student body.
Read more HERE
---
US Police Brutality protests (Jamar Clark Protests)
The stand against violent police officers harming and killing unarmed black citizens has had an unceasing force since the Trayvon Martin case. Throughout the country, protests spiked after every murder case surfaced. This was the situation for the shooting of Jamar Clark in Minneapolis on Sunday, November 15th. Clark was a suspect of domestic assault and when police arrived, witnesses claim that he was shot lying on the ground after being handcuffed. With a bullet wound to the eye, Clark was rushed to the hospital but taken off life support later the next day. Protests erupted as the police officers neither had body cameras or squad car surveillance so there was no evidence of what really occurred. There are videos that were recorded by bystanders, the ambulance and a building but the police are withholding them until after the investigation. Black Lives Matter and police brutality protesters are determined to get rightful justice and to keep the police accountable for their actions.
Learn more about the case HERE
---
Free Education Protests
American students around the country participated in the Million Student March on November 12th that demanded the cancellation of student debt, tuition free public colleges and the increase in wages for campus student employees. Protests were seen in Boston, Chicago, and California, just to name a few. You can read more about the Million Student March via their Facebook page.
London students created NCAFC. National Campaign Against Fees and Cuts, as a stand against the possibility of a loss in free education. Their goal is to show enough determination and resistance against the cuts of publicly funded colleges and fees for students so the government throws out the idea completely. They have planned for a day of action across campuses on November 26th. Read more HERE.
---
11/12 – Greek General Strike
A massive general strike occurred throughout Greece on November 12th shutting down public services across the country. It was estimated that 65% of the citizens participated in the strike against the pension cuts and increased taxes plaguing the country. Greece's bailout program has caused for severe instability in the financial system although the European Central Bank holds firm that the country can overcome this obstacle. Citizens have contrasting views as countless walked out of work that Thursday morning to join mostly peaceful protests excluding the one held in Athens that resulted in petrol bombs and teargas.
Read more HERE.
---
11/12 – Indian Anti-Modi Protest
Narendra Modi, the current Indian Prime Minister, a decade ago was banned from America and several European countries up until 2012 for failing to intervene in anti-Muslim riots in Gujarat, India. Currently, the country is seeing an increase in religious violence and human rights abuses which the public is blaming Modi. On November 12th, hundreds of protesters greeted Modi on the way to a meeting voicing their opinions of his negligence when it comes to racial disputes and women abuse.
Read more HERE
---
10/11 – Turkish Anti-Government Protest
Following the bombings during the anti-war rally killing 95 people on October 10th, there was a massive protest against the Turkish government. Thousands of people gathered the next day with the suspicion that the government was behind the attack. The Prime Minister Ahmet Davutoglu deflected the accusation and instead pointed the finger at ISIS, PKK militants or another radical group. As similar incidents transpired during the summer, recent events are making the public rightfully frustrated with the level of security in the country.
Read more HERE.
---
11/14 – South Korea Anti-Government Protest
Approximately 80,000 people protested against the South Korean president Park Geun-hye on November 14th at the capital. Tensions sparked the protests as unemployment increases as well as opposition of labor policies including layoffs. There is also opposition to the new requirement of state-issued history textbooks as some believe that past brutal dictatorships will be left out. The protests disbanded after police used teargas and water cannons on demonstrators.
Read more HERE.
---
South Africa student protests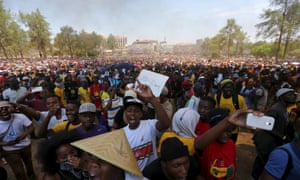 The proposal of university increased of up to 11.5% sparked days of protests in South Africa. About 10,000 people gathered on Friday October 23rd at Pretoria demanding a stop to the fee rise. Although the president did comply, he did not make his speech outside at the podium which angered many people that waited all day and some became violent with police quick with response. Due to the president's absence, plans of rallying to call for free education were said.
Read more HERE.
---
10/20 – Congo Protests Against Nguesso
The plans for President Denis Sassou Nguesso of Congo to seek a third term resulted in a violent protest on October 20th. There was a referendum to see if it was possible to change the constitution since Nguesso is over the presidential maximum age of 70 and is on his second and last possible term according to the constitution. The capital, Brazzaville was filled with protesters and lit with torches as police opened fire resulting in multiple deaths and injured protesters. Many public buildings were closed that day to avoid the violence that was predicted to occur.
"A heavy-handed response by security forces not only violates the protesters' rights to freedom of expression and peaceful assembly, but may enflame an already tense situation," said Ilaria Allegrozzi, Amnesty International Central Africa researcher.
Read more HERE.